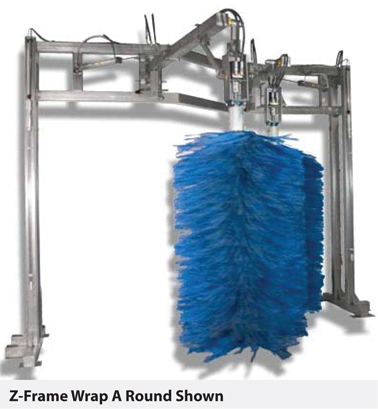 SUPERIOR CAR WASH SYSTEMS / Superior heavy duty Stainless Steel Flex Wrap A Rounds are engineered to be simple by relying on gravity to operate.
Designed to provide years of thorough and gentle cleaning by utilizing a flexible hinge bracket design for additional security.
Our unique design allows the scrubber to self-adjust automatically to changes in conveyor speed.
There are no complicated controls or sensors that can easily malfunction, making this system among the simplest, most efficient, most reliable, and safest in the industry today.
SPECIFICATIONS:
Cleans front, sides and rear of most vehicles
Unique sturdy Z-Frame utilizes less tunnel space
High-quality Parker pneumatic retract pistons and heavy duty stabilizer shocks are standard
Reinforced frame constructed of 4"x 4" – #304 Stainless Steel
Bolt-sleeve composition for added stability
Motor torque plate design for reduced maintenance
Stainless Steel hydraulic oil tubing
Heavy-duty hydraulic motors
Heavy-duty bearings
NeoGlide Foam Wash Material (Standard)
2 Frame Configurations Available – Z-style or Straight
OPERATION:
Available with Electric or Hydraulic Drives
(2) .65 Hp Electric Motors (VFD Included)
5 HP hydraulic power pack (Not Included)
Air – @ 75 PSI (for retract option)
Water – 3/4" braided hose
Water spray nozzles – 2 from top
DIMENSIONS:
Equipment height: 11′
Tunnel length: 11′ – Z frame style
Tunnel length: 9′ Straight frame style
Shipping weight – 1300 lbs