The "Awesome" Tire Shiner features a Hydraulically driven rolling soft and through Bristle applicator brush that enables the Tire Glo chemical to be distributed evenly throughput the brush for a constant and even distribution to the tire.
This heavy duty brush will last many years, saving you maintenance and brush replacement costs. This amazing unit utilizes a chemical recapture system that allows for as little as 1 Once of the Tire Glo chemical per vehicle.
The 8"soft bristle type brush conforms to the shape of both large and small tires, effectively reaching tye entire tire surface. The "Awesome" Tire Shiner utilizes gentle air cushion pressure to provide complete tire coverage with very little contact to the rims.
The "Awesome" Tire Shiner is build chemical dispensing system applies product just prior to the tire shine applicators on the market.
Each tire receives precisely the amount of product required for a complete application.
The "Awesome" Tire Shiner is built to last. We use a double wall aluminum frame, The soft and thorough applicator brush will set industry standards for a longer life expectancy. The brush's extended life span and engineered chemical dispensing system simplifies your routine maintenance and virtually eliminates brush replacement costs.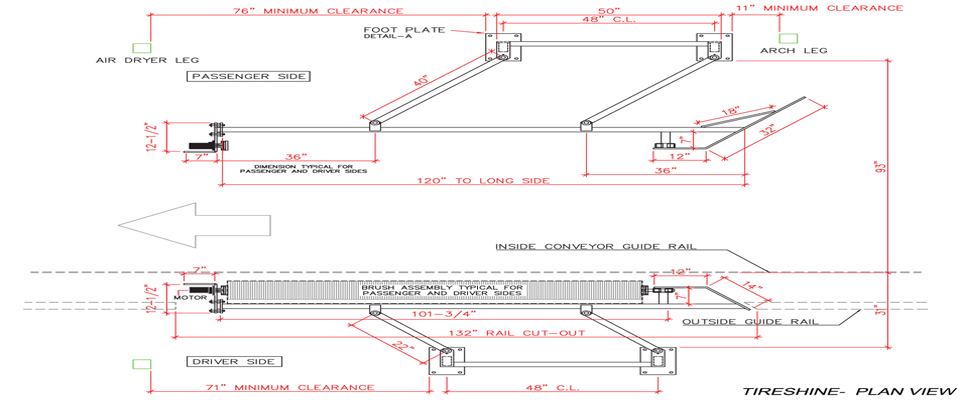 Precise chemical control allows you to easily monitor the Tire Glo Chemical usage
Unique Soft and through brush design conforms to any tire profile providing complete tire coverage
No "sling" chemical collection recollection system
No slippery bay floors from waisted chemicals
No messy saturated foam pads
Engineered sturdy frame design
Minimal Maintenance
Durable yet gentle brush lasts up to 75,000 cars plus